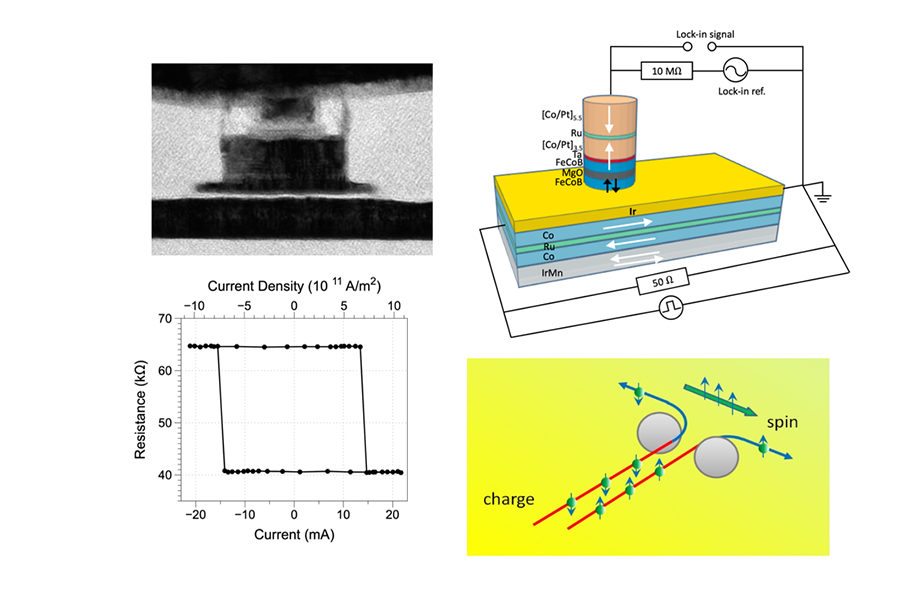 Iridium Facilitated Spin Hall Perpendicular MTJ Switching
When using spin Hall effect to switching a perpendicularly magnetized magnetic tunnel junction (MTJ), an externally applied magnetic field in the film plane is required. In this research project, a thin iridium layer is inserted between the free layer of the perpendicular MTJ and an in plane magnetized synthetic antiferromagnet. The iridium layer serves a dual purpose: facilitating the spin Hall effect for spin injection and the in plane magnetic coupling for eliminating the need of the external in plane field.
For Sponsors
Related Publications
Field-free Magnetization Switching by Utilizing the Spin Hall Effect and Interlayer Exchange Coupling of Iridium.
Y Liu, B Zhou, JGJ Zhu, Nature/Scientific reports 9 (1), 325 [Get it]
Related Presentations
Iridium Enabled Field-free Spin-Orbit Torque Switching of Perpendicular Magnetic Tunnel Junction Device. Yang Liu. DSSC 2019 Fall Technical Review. [
Get it
]