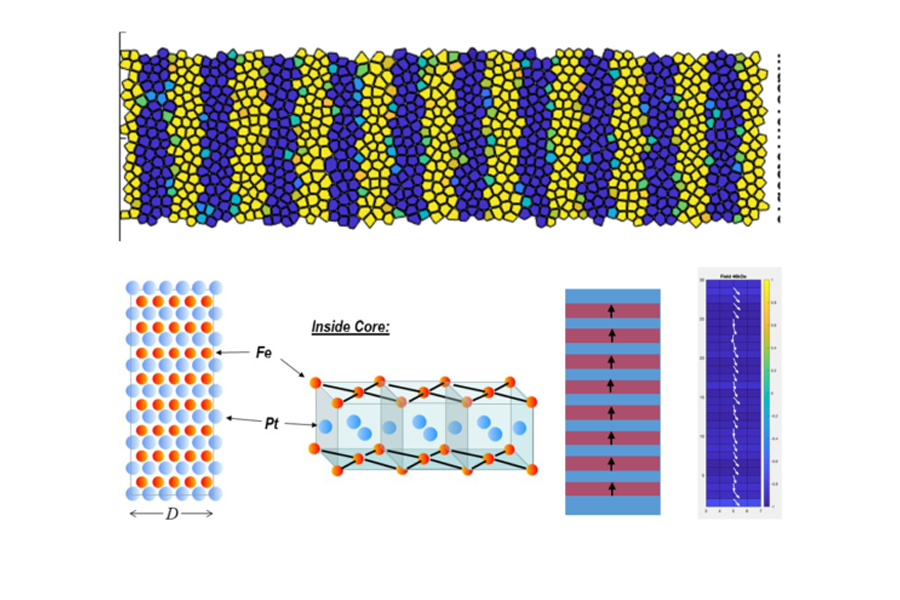 Re-Think the Modeling of FePt L10 Grain in HAMR Media: Incoherent Switching and Multi-domain Grains
Perfect L10 ordering of FePt forms alternating monolayers of pure Fe and pure Pt along the ordering direction. It is believed that the Fe-Fe direct exchange coupling within each Fe monolayer is significantly stronger than the exchange coupling between adjacent Fe monolayers and Grain Curie temperature should be dominated by the intra-layer Fe-Fe exchange. In addition, spin polarization of Pt atoms only yields less than 10% of the contribution to the material magnetization. In this project, each Fe monolayer in a FePt grain is modeled as a macro-spin. Exchange coupled monolayers then form a single FePt grain. Micromagnetic modeling simulation of heat assisted recording process are performed. It is found that during recording process, relatively stable multi-domain grain are found at transition centers and their existence reduces transition noise at narrow track width.
For Sponsors
Related Publications
"Incoherent Magnetization Switching within a FePt-L10 Grain during Heat Assisted Recording and Impact on Understanding",  J.-G. Zhu and Y. Yan,  to be submitted to IEEE Trans. Magn. and to be presented at TMRC (2020).